We offer a variety
of services to meet your
pet's healthcare needs.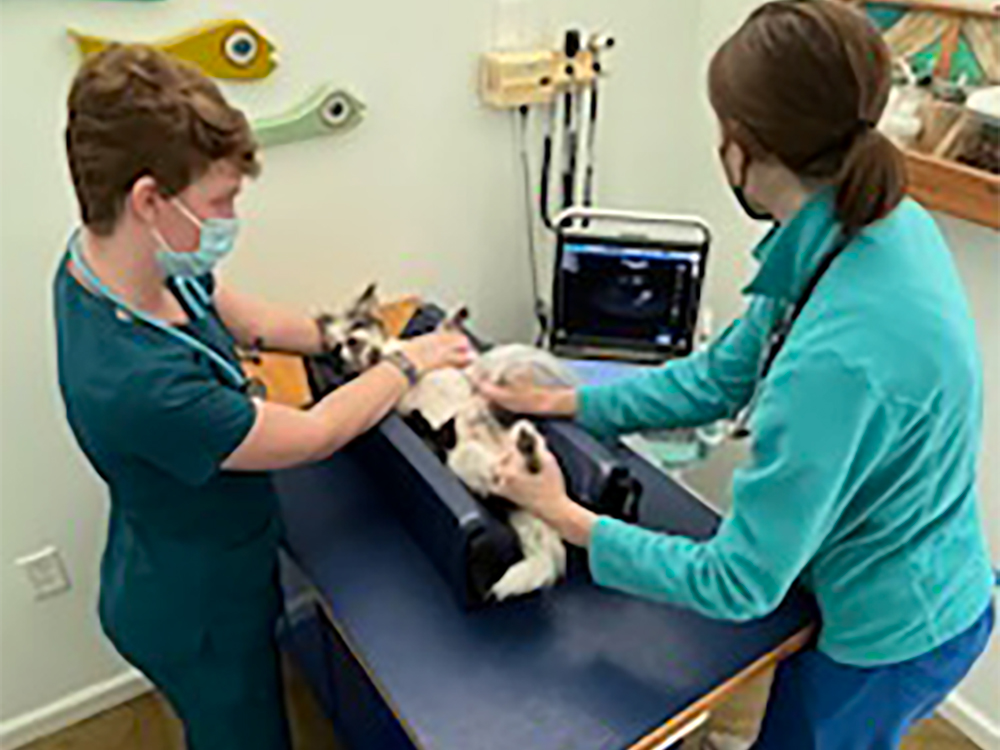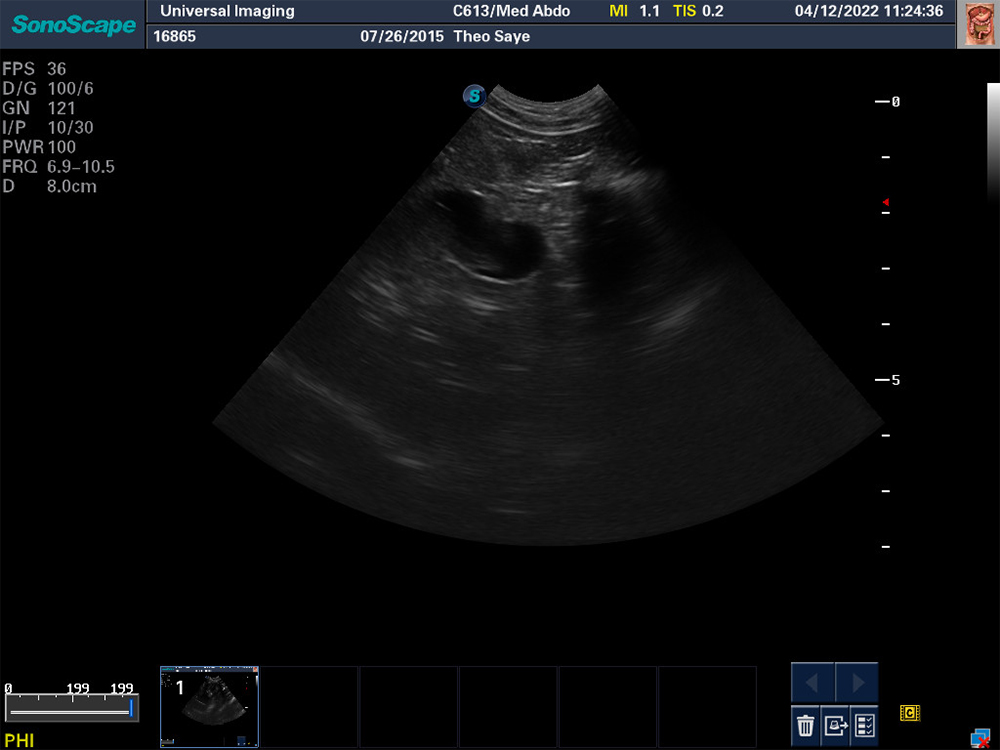 Physical Exams
Regular exams are a great way to keep your companion happy and healthy. Pets often mask or hide pain and illness. Having your Veterinarian perform a complete physical exam will allow her to detect early warning signs of illness that may arise.
Vaccinations
Vaccinations prevent life threatening illness. At Kindness, we individualize a vaccine plan for your pet depending on their need and exposure. Our goal is to work with you to determine the best way to keep your furry family member healthy.
Dentistry
Dr. Connor has an avid interest in dentistry, and has received advanced training in dental health evaluation and surgery .
She is a member of the Veterinary Dentistry Academy, a group of Veterinarians committed to the gold standard of Veterinary dental healthcare.
During your pet's Dental procedure we evaluate the oral cavity for lesions or masses, perform full-mouth radiographs of all teeth and probe each tooth for excess depth and pocketing at the gum line.
The teeth are ultrasonically scaled to remove built-up plaque and calculus. If necessary, we perform root planing by hand to remove diseased tissue associated with periodontal disease.
We then polish the enamel on the teeth and apply a fluoride treatment.
Dr. Connor performs dental extractions and oral surgery as indicated, utilizing regional anesthetic blocks to prevent and manage pain during and after the dental procedure.
*Learn more about our dentistry
What is Periodontal Disease and why does my pet have horrible breath?
Periodontal disease is caused by a bacterial infection that spreads, unseen, beneath the gumline. As the disease progresses, it destroys the bone around the tooth roots leading to mobile, painful teeth.
Periodontal Disease is considered the most common disease in companion animals!
An estimated 85% of dogs and 75% of cats over 3 years of age display some form of periodontal disease.
Just think about how your teeth would look and how your mouth would feel and smell if you didn't brush for several years!!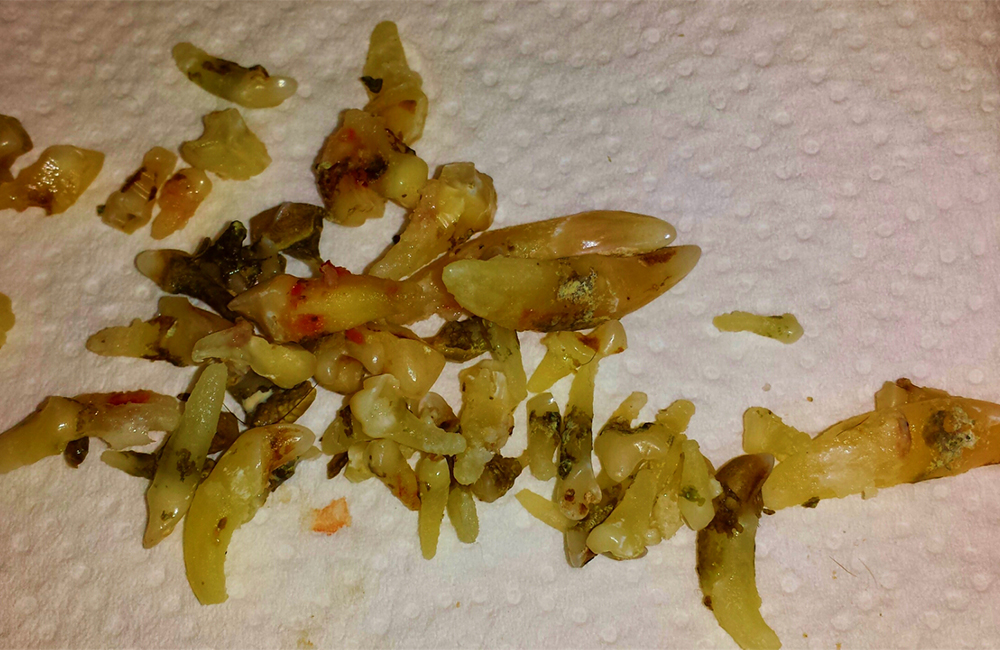 *Multiple extractions due to SEVERE periodontal Disease*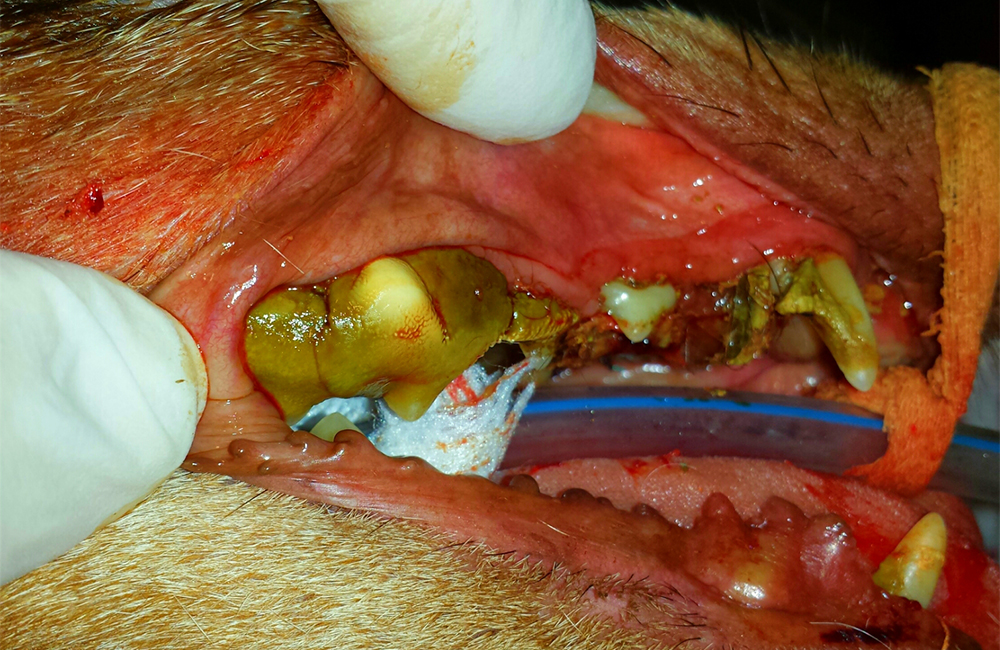 *Painful periodontal disease*
Periodontitis, an inflammation of the tissues that surround and support the teeth, is chronic and progressive without a known cure; however, it is preventable and manageable with regular dental cleanings and home care!!
Dr. Connor will examine your pet's mouth and discuss home dental care options. If a dental cleaning is necessary, it is done while your companion is under general anesthesia*. This allows our technicians to clean deeply, under the gum line where periodontal disease occurs.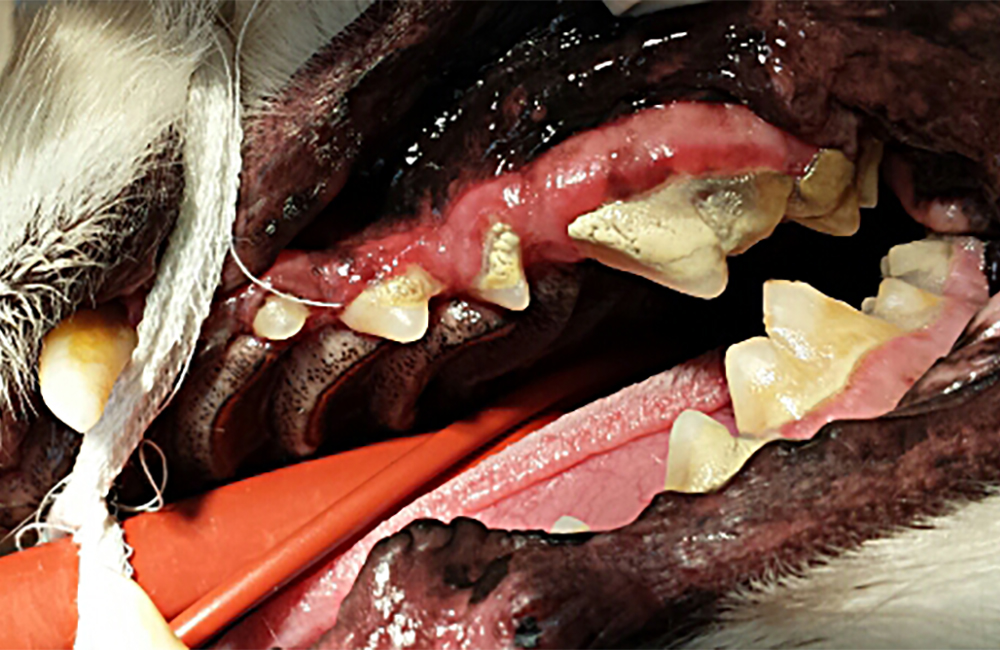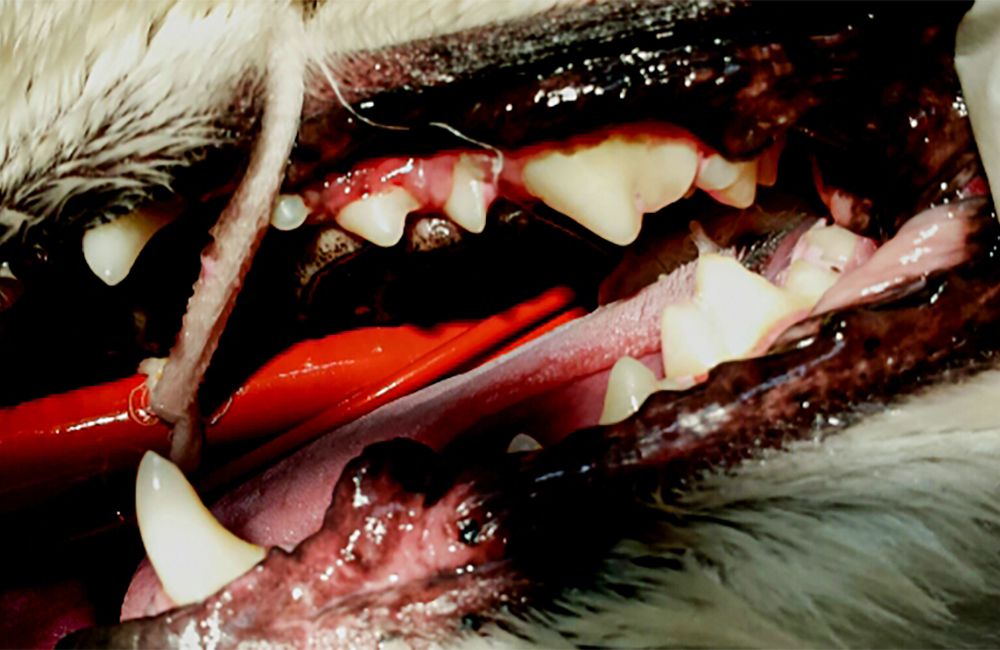 Surgical Services
At Kindness, we perform spays and neuters but we also offer more complicated surgical services such as mass removals, exploratory surgery, cystotomies, amputations, as well as other soft tissue surgery.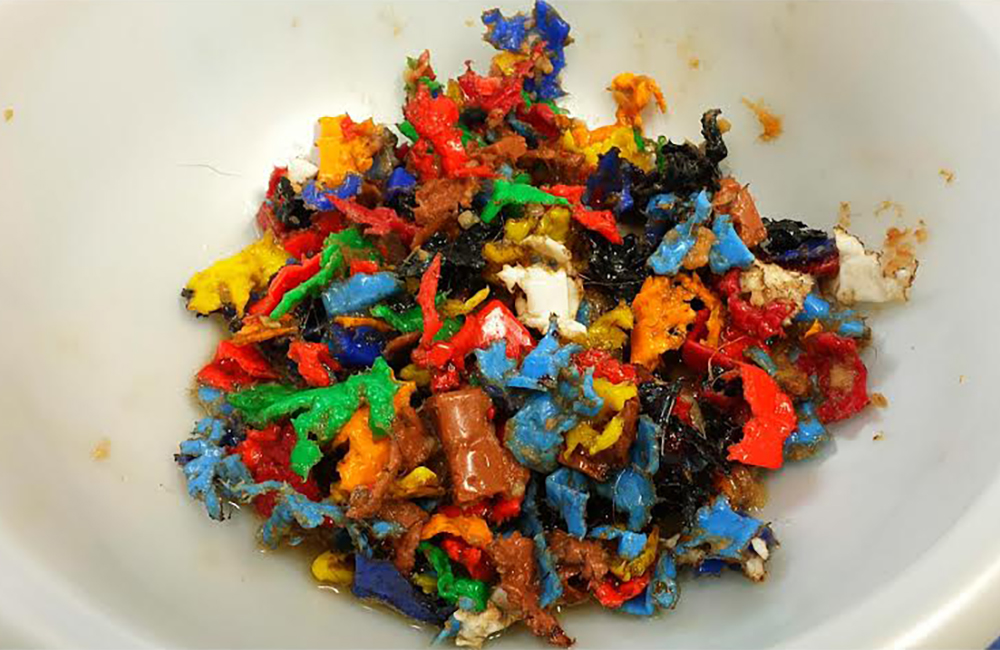 *Plastic toy Foreign Body*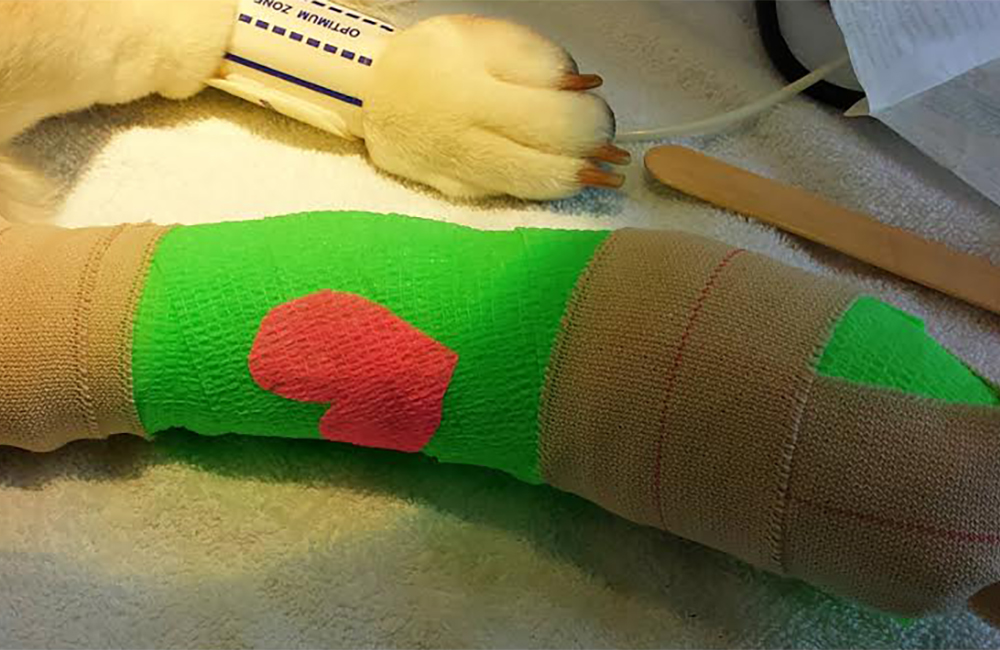 *Snazzy bandage after mass removal!*
Puppy and Kitten Care
Puppy and kitten appointments are very important for your new family member! At your first appointment, we will perform a full physical exam, discuss basic care and training, screen your companion for intestinal parasites, and administer initial vaccinations as required. At subsequent visits, Dr. Connor or Dr. Carr will perform physical exams to check for abnormalities as your companion grows, give required vaccinations or boosters, as well as address any concerns that you might have.
Geriatric Patient Care
For geriatric patients we recommend an exam twice yearly. Older pets often require additional supportive care, because aging may cause health changes to occur more rapidly. If your older pet has symptoms of stiffness, weight loss, a change in appetite, an increase in thirst or a change in behavior, such as confusion or anxiety, these may be indications of underlying illness. We will perform a thorough exam, address your concerns and help you to identify changes that may be affecting your companion's quality of life.
Radiology and Laboratory Services
Our hospital is equipped with modern, state of the art laboratory machines, therapeutic laser, full digital radiography, with Board certified Veterinary radiology interpretation available, as well as digital dental radiography. This allows us to provide the highest standard of care, and provide immediate diagnostic results.
Anesthesia
We take your pet's safety very seriously. Throughout your companion's anesthetic procedure, a Veterinary technician is on duty, assigned to your companion exclusively. We employ "gold standard" protocols and utilize state of the art equipment such as: cardiovascular monitoring equipment, Oscillometric blood pressure monitoring, recirculating warm water heating pads and continuous intravenous fluid therapy. We use the safest anesthetic agents available.
We strongly believe that Pain management is an important part of your companion's care. We utilize a multi-modal approach to pain relief during and after all anesthetic procedures. Anesthetic patients receive a physical exam prior to their procedure. We recommend that your companion receive blood work prior to undergoing anesthesia. Pre-anesthetic blood work screens for underlying disease such as liver and kidney disease, anemia and dehydration. We strongly suggest blood work for all patients over the age of six.
Microchip Placement
We recommend that all patients have a microchip as a form of identification. A microchip is a tiny computer chip (about the size of a grain of rice) that is implanted between the shoulder blades of your pet with a needle. A microchip allows permanent identification. Collars and tags are helpful but can fall off or be taken off. Even if you have an exclusively indoor pet, we recommend a microchip! We use AVID Microchips, and offer microchip placement during any anesthetic procedure. A microchip may also be placed while your pet is fully awake as well.
Payment
Kindness Pet Hospital accepts payment via cash, check, MasterCard, Visa, Discover and American Express. At Kindness, we are happy to provide estimates for all services and treatment plans prior to initiating care. We request that payment be made in full at the time services are rendered. We also offer Care Credit. Care Credit offers an interest free loan for six months for qualified applicants. Please check the link below for more information. Applications are available online or through our office. www.carecredit.com
Fabulous, not only did my pet receive excellent care from everyone involved from front of the house to the Doctor, but I was treated with care and compassion and it was an excellent experience all the way around. People went above and...
★ ★ ★ ★ ★
Crystal Taylor
If I could have them take care of me, as well as they take care of my dogs, I would! Dr. Connor and Dr. Carr are brilliant and all the Techs and Staff are genuinely kind and friendly. They all deserve MANY more than 5 gold stars.
★ ★ ★ ★ ★
Michelle Touchstone
We were referred to this office and everything met our expectations and more! Dr. Connor and Dr. Carr are very knowledgeable and really took time to answer all the questions we had about our puppy, Puff. Our dog loves...
★ ★ ★ ★ ★
Samantha Uy